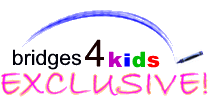 A Mom's Request Regarding IDEA Reauthorization
by Shari Krishnan, March 2003
For more articles like this visit https://www.bridges4kids.org
Dear Senator Levin,

Thank you very much for always being so accessible to your constituents and working so hard for us. I really appreciate it.

Senator, I have an eleven year old son, Nicholas, who has autism (what some educators consider severe on the spectrum, since he can barely speak). Thanks to IDEA 97, and its underlying spirit, Nicholas may well be considered a special education success. He is included in the fifth grade, rides on the bus with his neighborhood friends, plays percussion in the band, and has been invited to birthday parties of his own friends, thanks to his public education experience in Michigan. All of this could be jeopardized with the upcoming IDEA reauthorization.

As the Chair of Michigan's Special Education Advisory Committee, I have been doing my best to find out about the IDEA reauthorization on an ongoing basis. Additionally, I have been dedicating my time and personal financial resources to understand the context of No Child Left Behind, the Presidents Commission's Report, and the like. I do this to be certain that when I write to you and anyone else, that I maintain my integrity and credibility as someone who firmly believes that public education is something that we need to protect and preserve.

Much to my dismay, as a parent, I am hearing some extremely disturbing rumors surrounding the IDEA reauthorization process. Such rumors include the notions that:

1. IDEA is on the fast track in the House, and that the Senate is not far behind. I have heard that the House (and even perhaps the Senate) may want to be completed with everything by April, 2003. That is less than one month away!

2. Public notice of hearings are happening only one day before the scheduled hearing dates (if the notice is "noticed" or found at all by the public).

3. The House and the Senate do not want to expose information to the public, since they don't want the special education and the disability community to comment, protest, or somehow disrupt the legislative process.

This troubles me, as we are at war, fighting in the name of democracy. Yet, in our own country, we are locking citizens out of the very process that we look to fight for elsewhere. It is difficult to have freedom of speech, if there is no forum to speak at. It is difficult to travel to Washington, D.C. at this time, out of fear. Just at a time when Americans are most vulnerable and uncertain about our futures, more uncertainty is being placed on the plates of families who have students with disabilities. And, the freedom of participating in this democratic process is being limited to just a few individuals.
It seems that the war effort is going to be used as a smoke-screen to hide what is going to happen with the Individuals with Disabilities Education Act. I feel this way, since it resembles what happened with No Child Left Behind. September 11 came along, and people allowed No Child Left Behind to go through without completing critical debates along the way. Out of patriotism, people supported the President of the United States. In retrospect, the public trust was abused, since No Child Left Behind is not, and it looks like it will not in the future, hold its promise for the purpose it was stated to be intended. We cannot allow these issues to become clouded and violate the trust of our citizens and hope for our kids in Michigan who heavily rely on the public education system. In Michigan, we do not have consistently strong mental health and other community options for students with disabilities. So, at least at this time, we cannot afford to water-down our Special Education system with what is being proposed, as presented by the House this past week.
If you could do the following, this would be very helpful:

1. Add me on any Education mailing lists coming from both parties in the House and Senate.

2. Direct me to any and all IDEA-related bills that are rolling out of the House and Senate.

3. Work with your Senate colleagues and slow this train down. Please help them demonstrate sincere concern and consideration for public comment and input. We have barely had a chance to see what NCLB will mean for our states.

By having time to look at this, the input of IDEA will be in a better context for kids. This is about the future of children who have too few community options, let alone, credible and affordable education options.
Senator Levin, when I was on a recent Disney Cruise with Nicholas, I cannot begin to tell you how many kids swam up to us and asked if Nicholas had autism!!! These were kids with ages ranging from elementary school to jr. high school. They spoke of their experiences in school, helping kids like Nicholas. They gave me their suggestions. And, most magically of all, they all took Nicholas by the hand to help him up and down the waterslide. They comforted a frightened, yet excited Nicholas all the way up the ladder and then down the slide. They laughed with him. They swam with him. They played with him. And, then, they asked if they could do it some more.

This cruise experience, and many others like it, would not have been possible without the things that have happened in school, especially since IDEA 97. The brilliant things about IDEA 97 were two very strong philosophical statements about students having access to the general curriculum and being educated nearest to peers without disabilities. Everything else in the legislation seamlessly helps these notions become a reality. I pray that with IDEA 2003, these types of human experiences will continue to be supported and realized by families.

Thank you very much for your consideration. I always feel good knowing that you are in Washington, D.C., representing our families in Michigan and, specifically in this case, our children with disabilities.

Shari Krishnan
Nicholas Krishnan's Mom
Bloomfield Hills, MI
sharikrish@aol.com