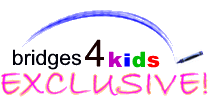 Speaking Up
Every day parents and advocates of children with special needs reach out to each other and offer, through the magic of e-mail and Listservs, online information, advice, and support. Today "karatemom" told this story and we want to share it, in the hope that it will inspire others.
Author: karatemomotr@comcast.net
For more articles like this visit https://www.bridges4kids.org.
"I was shopping today at a well-known, local store when I heard a "supervisor" two isles down ripping into an employee for not performing a task properly (something about labeling and putting things on the shelf). It was very loud, harsh and belittling treatment. I am not sure, but I suspect the employee may have some learning challenges. (My radar told me so, but I didn't observe the employee enough to be sure). I was embarrassed for the employee and dismayed to see any employee treated that way, especially in public.

I walked over to the isle, past the supervisor and took a good look at his name tag. I decided not to say anything to him....instead I went to the front desk and asked to speak to the store manager, and I was specific, I wanted the top person in the building.

He came to see me and we talked about what I saw/heard. I identified what I do for a living (I work with young people with disabilities) and how we place people with challenges in job sites like the one I was in (which, by the way, has a very good record of hiring people with disabilities) and how appalled I was to see treatment like this of ANY employee, it was so disrespectful.

The manager listened, took my name and number and asked me to describe specifically what I saw and heard. During this time, the supervisor had come over to the service desk and was hanging around (he knew he was in trouble), which made it easier for me to identify exactly who I was talking about. The manager at least expressed his agreement that it's inappropriate to handle employees in that manner and that problems should definitely be handled off of the floor.

I suggested that it is possible the supervisor lacks the skills to know how to give directions to people with challenges, which may be frustrating for him, so he may need help with those skills. I also asked that the manager speak to the bullied employee. I went on to explain how being treated so disrespectfully can damage self esteem (this employee really did nothing but try to explain himself, he then shut up and busied himself with work while the supervisor harped on him). I told the store manager that the bullied employee needed support to deal with what just happened to him. The store manager told me all about the employees with special needs that he has working there and how valuable they are and what a good job they do. He told me that he appreciated that I took time to wait for him to come to the desk so that I could tell him what had happened.

I felt that he was genuine in his concern and that he was going to follow up. And the supervisor in question had that look on his face like he knew he was busted. (GOOD!) The last time I complained about a rude employee (more than 10 years ago...I received good follow up)

I hate to think of what might have happened if I hadn't been there to speak for this individual. Maybe the higher powers that be knew what they were doing.