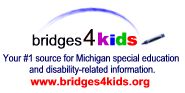 Board Gives Watkins High Marks
June 26, 2003, The Associated Press
For more articles like this visit https://www.bridges4kids.org.

LANSING, Mich. (AP) — State Superintendent Tom Watkins gets an A- for the job he's done for education in Michigan, the Board of Education said in its annual evaluation.

Watkins responded that it was the highest grade he had ever received.

The board issued its evaluation during Thursday's monthly board meeting.

Board members said Watkins has fulfilled the board's aim of being an "effective advocate for children and public education."

Watkins has been state superintendent for two years.
back to the top ~ back to Breaking News ~ back to What's New