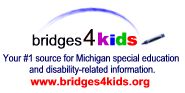 New Web Site to Offer Disability Sensitivity Training
PRNewswire, June 16, 2003
For more articles like this visit https://www.bridges4kids.org.

A new web site is now available to provide Disability Sensitivity Training to the citizens of Georgia. The web-based course is tuition free courtesy of The Governor's Council for Developmental Disabilities and Georgia Disability Advocate Consulting Group, Inc. The course may be found at http://www.disabilitylearningservices.com.

"One out of every five people in Georgia has some form of a disability," says Kate Gainer, Managing Principal of Georgia Disability Advocate Consulting Group, Inc. "It has been our dream to develop a disability sensitivity course and make it available to everyone in Georgia via the Internet."

After completing this course, successful participants will:

* Use appropriate terminology.
* Practice disability-related etiquette.
* Identify actions prohibited in the workplace.
* Expand their circle of friends to include people with disabilities.
* Demonstrate how to relate and communicate with people with disabilities.
* Discuss Americans with Disabilities Act (ADA) requirements for service dogs.
* Develop awareness that the ADA is based on the same principles as earlier civil rights laws -- equal opportunity and access.

This training focuses on issues relating to people with disabilities -- from the Americans with Disabilities Act (ADA) to conversation etiquette. Course participants may tailor their training by using one of three training roadmaps. The course offers a unique opportunity for students to interact with volunteer mentors from the disability community. On-line guides are included to help students in the practical application of the training. The time required to complete this course will vary based on each individuals learning pace.

This workshop is appropriate for all audiences -- business leaders, managers, supervisors, professionals, teachers, clergy, line staff, small business owners and civic leaders would benefit from this course.
back to the top ~ back to Breaking News ~ back to What's New