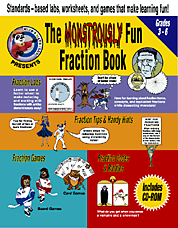 Reviewed By: Beverly Brown, a former Elementary School Teacher, who is currently home schooling children in Missouri
Review Date: March 17, 2004
Price: $24.95
Description: Fractions aren't just fun—they're MONSTROUSLY fun! With over 300 pages of engaging worksheets and hands-on activities, this new supplemental resource will help turn all your students into math enthusiasts!
For More Information: You can find out more about this book or about Mike's Math Club at http://www.mff.org/mmc/.

First of all, I would like to say thanks to Bridges4Kids for allowing me to review The Monstrously Fun Fraction Book. Congratulations to Mike's Math Club on true genius and dedication.
This book is such a great addition to our home schooling program. It has helped to open up the thinking process for all of us. We've used it for homework reinforcement and to assist with daily school work. The children found the characters to be extremely fun: Hollie Hamster, Ollie The Owl, Detective Duck, Decimal Dalmatian and the rest of the gang, played very important individual roles in the learning process. The Frankenstein Family was also great at helping the children learn the concepts and terms while reinforcing their knowledge in the area of fractions.
I was having difficulty teaching fractions to one of our children who was having problems understanding and staying interested. Now, with The Monstrously Fun Fraction Book, he is understanding more and paying a lot more attention. He is showing much more interest.
The CD-Rom, a very useful addition to the book, contains easy-to-print worksheets and all kinds of student pointers and resources. The Fraction Tips, Handy Helps and Answer key all make it very convenient for the teacher.

I would say that I enjoyed the activities just as much as the children did! It is apparent that this was a carefully planned book; the attention to detail is phenomenal. I would recommend this book to anyone whose child is learning fractions. Thanks a lot for the help, Mike's Math Club!
back to the top ~ back to Breaking News ~ back to What's New