District Hosts Distinguished Visitors - May 2004
State Superintendent for Public Instruction Tom Watkins and State Representative Andy Meisner Visit Roosevelt Students
For more articles like this visit https://www.bridges4kids.org.

On May 7, 2004 students at Roosevelt Primary School (K-2) and Wilson Elementary School (3-4) hosted special visitors to their classrooms when State Superintendent for Public Instruction Tom Watkins and State Representative Andy Meisner spent the morning learning about their programs. Tom Watkins is pictured at left with Ferndale Superintendent Gary Meier and two Roosevelt students.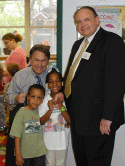 Starting the morning at Roosevelt, Watkins and Meisner attended presentations from Roosevelt staff members. They learned about the success of the first year of Roosevelt's Reading First literacy program from Literacy Coach Linda Dickieson. School Social Worker Anne Kelly explained how the Positive Behavior Support Program and Michigan Literacy and Behavior program are succeeding in focusing on key areas and yielding students' school success. Speech teacher Donna Pearlman described how the regular Town Hall Meetings have brought all the children together to share their accomplishments and helped create Roosevelt's school community. Diana Keefe and Linda Hahn described the dramatic improvement they've seen among the first grade students they serviced this year through the Reading Recovery program.

Following the staff presentations, Meisner and Watkins sat with students during their reading block in Shannon Stephens' first grade class, watched mealworms wiggle across science trays in Teacher of the Year Linda Somers' second grade class, and listened to a choir concert that closed with the rousing school song, "In Our School," written by music teacher Lou-Anne Thomas.

A Photo gallery of the visit is located on the web at http://www.ferndaleschools.org/roosevelt/photogallery/photo15443/real_p.htm. Click on each of the photos to enlarge them.
back to the top ~ back to Breaking News ~ back to What's New