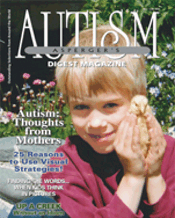 Title: Autism Asperger's Digest Magazine
Reviewed By: Jackie D. Igafo-Te'o
Managing Editor: Veronica Zysk
Review Date: June 20, 2006
Description: Autism-Asperger's Digest Magazine is a publication of Future Horizons, Inc., featuring original articles and material from sources around the world. Each issue covers the latest people, products, research, news & viewpoints emerging in the autism field.
Jackie's Review: I was recently given the opportunity to review Autism-Asperger's Digest Magazine. Being the parent of an 11-year-old son with Autism, I jumped at the chance. This bi-monthly magazine is packed full of information and resources that address the many aspects of life on the Spectrum, including communication, self-esteem, behavior, inclusion...the list goes on. I was impressed by the wide range of information presented in each of the 3 issues placed before me. In particular, I enjoyed the writings of Temple Grandin, a woman with high-functioning autism and accomplished writer, along with special education articles by Attorney Reed Martin. The list of experts who contribute to each volume is impressive, to say the least. Each issue highlights thought-provoking features on the Gluten Free/Casein Free (GF/CF) Diet, along with book reviews, wisdom from those on the Spectrum, products, research articles and many other topics that are sure to peak interest. In short, this magazine did not just meet my expectations, it far exceeded them. I would recommend this magazine to anyone working with, living with or living on the Spectrum.
For more information or to subscribe: Visit http://autismdigest.com/ to learn more about this amazing publication. There are various subscription options: Trial Subscription $24.95 (3 Issues), One Year $49.95 (6 Issues), and Two Years $79.95 (12 issues).
back to the top ~ back to Breaking News ~ back to What's New