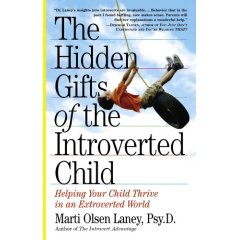 Title: The Hidden Gifts of the Introverted Child: Helping Your Child Thrive in an Extroverted World
Authors: Marti Olsen Laney, Psy.D.
Review Date: July 26, 2006
Price: $14.95 List Price or $9.72 at Amazon.com
ISBN: 0-7611-3524-3
Description: How can parents help their introverted children discover and cultivate these wonderful gifts? Help is here. Written by Dr. Marti Olsen Laney, author of The Introvert Advantage, The Hidden Gifts of the Introverted Child fully explains introversion as a hardwired temperament, not a disability, and tells just what parents need to do to help their child become the person he or she is meant to be—and succeed in an extroverted world.
Jackie's Review: Over the past few weeks, I had the pleasure of reading The Hidden Gifts of the Introverted Child. Having a child who was extremely introverted until age 9, I found the information here to be simply fascinating - I wish I had found this book earlier in her development. Hidden Gifts is a comprehensive manual on everything "introverted" for parents, teachers - and the introverted child. Combined with easy-to-understand comparisons of introversion and extroversion, Dr. Laney takes the predominantly negative term "introvert" and turns it into a marvelous journey of insight into the positive gifts of the introverted child.
You are sure to walk away from this book with knowledge enough to provide love and support to the introverted child in your care, as well as ways to help him/her come out of their social shell. I would recommend this book to any parent of a shy or introverted child, along with any teacher or caregiver of a who works with children (because you are sure to have an introverted child in your care during your career).
Of special note, I found the following sections of the book to be particularly helpful:
Twelve People You'd be Surprised to Learn Are/Were) Introverts,

What Introversion Isn't (Myths),

How to Spot an Innie or an Outie,

A Quiz "Is Your Child Introverted?",

How Innies and Outies are Hardwired,

Improving Sibling Relationships,

Supporting Your Introvert at School,

Helping Your Innie Manage Conflict, Bullies and Other Challenges, and

Syndromes and Disorders that are Sometimes Confused with Introversion.
For more information or to order: Visit http://www.theintrovertadvantage.com/ for more information on this book. For ordering information, visit Amazon.com at http://www.amazon.com/gp/product/0761135243/ref=ase_theintroverta-20/103-2266867-0503830?s=books&v=glance&n=283155&tagActionCode=theintroverta-20. For a sneak peek of Dr. Laney's work, you can read her article entitled "Being an Introvert" online at http://www.theintrovertadvantage.com/being.html.
back to the top ~ back to Breaking News ~ back to What's New